What Changed on the 2020 GMC Yukon vs the 2019?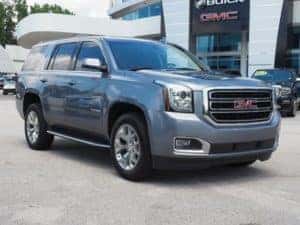 The Yukon model is beloved for its usefulness, style, and luxuriously comfortable interiors. In terms of significant changes, this model-year upgrade was on the lighter side, but it isn't without reason. The 2021 models are set for a next-generation redesign, so the 2020 did maintain a healthy portion of the 2019 feature set.
We'll go through a few of the key features which differentiate the 2020 GMC Yukon vs. the 2019 GMC Yukon.
Model-Year Similarities
Both the 2019 and 2020 SLE and SLT Standard editions feature the 5.3 EcoTec3 V8 engine with 355 hp and 383-lb-ft of torque, with a towing capacity of up to 8,500 lbs. Additionally, both model years seat 9, featured second and third-row fold-flat seats and
202 GMC Yukon Model-Year Differences
As we mentioned previously, this year's list of differentiating features was a little light. Many of them apply to the Denali trim levels and are limited to exterior color expansion. The Carbon Black Metallic exterior color is now offered as part of the Denali Ultimate Black Edition.
The model-year changes in terms of technology and interior features are relatively minimal, but the 2020 version delivers the same style, elegance, and luxury paired with high-tech features to ensure it fits your driving needs.
If getting the behind the wheel of a Yukon seems like it's in your future, we can help! Browse through our inventory to find a 2020 GMC Yukon for sale in Jacksonville, FL – and let us know if you have any questions at all. We're conveniently located near Orange Park, Lakeshore, and St. Augustine.