GMC Unveils New Fuel-Efficient Engine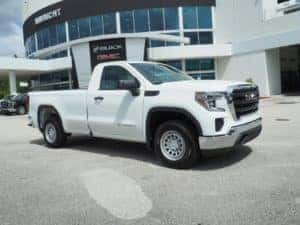 When you think of fuel efficiency, we know that a pickup truck is not usually the first thing that comes to mind. Well, the 2020 GMC Sierra 1500 is here to change all of that. And it all starts with the engine. With the brand-new Duramax® 3.0L Turbo-Diesel 1-6 engine, GMC has given fuel efficiency a powerful new overhaul.
Duramax® 3.0L Turbo-Diesel I-6 engine
Paired with a 10-speed automatic transmission, this inline-six turbo diesel is a perfect match for GMC's light-duty full-size truck. Combining 460 lb-ft of torque and an estimated 30mpg on the highway, this just may be the most fuel efficient Sierra that has ever been produced. The two-wheel drive Sierra estimates 23 MPG in the city while the four-wheel drive estimates 22 mpg in the city. This is all made possible by combining a variable geometry turbocharger with Active Thermal Management. This collaboration helps the engine target precise areas of the powertrain for heating and cooling. By maintaining optimal temperatures for performance and fuel economy, the Duramax® 3.0L Turbo-Diesel is one of the most fuel efficient engines on the market today.
Off-road adventures
There is plenty of low-end torque for those off-road weekend adventures. Power and control are in no shortage when you reach peak torque at 95 percent with a low 1,250 rpm. Full torque when you are between 1,500 and 3,000 rpm. This turbo diesels max towing is 9,100 and the max payload tops out at 1,830. You won't think twice the next time you take this GMC Sierra on a detour through the mud or down an unpaved trail.
If you would like more information on this incredibly fuel-efficient truck, please let us know. You can browse through our selections of 2020 GMC Sierra 1500's or stop by Nimnicht Buick GMC to take one for a test drive.